Podcast: Play in new window | Download
"You were born to win, but to be a winner, you must plan to win, prepare to win, and expect to win." – Zig Ziglar
Do you fret and worry about the possibility of failing? Do you know you increase the odds of failure based on what you focus on? Your mindset is the game changer of your success. If you are focused on failing, you may see procrastination, apathy, and indecisiveness. With a lack of effort or no effort, you will meet expectations of failing. Now, if you believe in yourself and that you will succeed, you will plan, prepare, and put the effort required to achieve success. Chances are you will meet or exceed your expectations. To succeed, you need to anticipate success!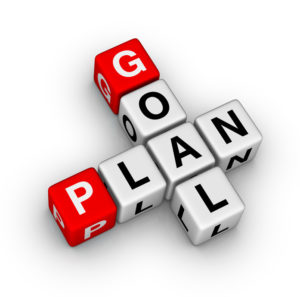 Set Clear Expectations. Setting yourself up for success involves being clear about your expectations and sharing them with others if you are working with a team or other individuals. When people see that you are anticipating success, they will share in the energy, enthusiasm, and vision. What do you think people thought when JFK made his speech to Congress May 25, 1961, and said, "I believe that this nation should commit itself to achieving the goal, before this decade is out, of landing a man on the moon and returning safely to Earth?" Some people may have reacted stating that's impossible. Others were already thinking, "That's exciting, they started asking questions and gathering information. What knowledge, skills, and abilities do we need? I want you to pay attention to JFK's statement. It was specific – what did he want to see happen – land a man on the moon. What did he expect? They would be able to land a man on the moon AND return him home safely. He did not stop at getting to the moon but returning them back and 1969 his vision became a reality. Neil Armstrong was the first man to land on the moon. It is unfortunate JFK was not able to see it come to pass.
You can set yourself up to expect success too. It all starts with your belief in yourself, your ability, and the people around you. What you believe must align with what you expect. What do you expect to achieve?
Ensure your goals are SMART. Specific. Measurable. Achievable. Realistic. Timely. You may want to shortcut or keep it extra brief. You cannot do that. You need to ensure you are very clear on each of the 5 parts of the SMART goal. You need to write your goals down. If you are keeping them in your head, you will learn very quickly, out of sight, out of mind. Keep your goals front and center. Often where people fall short is in that they have no way to measure what they are attempting to achieve so they do not know when they have achieved it or not. Sometimes people set goals that are not achievable or realistic. It may be because they did not set aside an appropriate amount to time or resources to achieve the goal for the timeframe they were aiming for.
Do you anticipate success for the following statement?
I will lose 20 lbs in 3 days.
Let's breakdown the goal – specific yes, measurable – yes, achievable – no, realistic – no, timely – yes. Something drastic would need to occur for that to happen.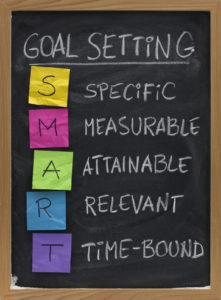 Now let's fix it up!
I will lose 20 lbs in the next 125 days.
Specific – Yes, Measurable – Yes, Achievable – Yes, Realistic – Yes, Timely – Yes!
Here are a few more achievable and realistic actionable goals:
I will send out 35 marketing letters every week for the next 3 months.
I will create 1-2 Facebook Live Videos every week.
I will call 1-3 of my clients per day every week.
I will set a date night with each member of my family once a month.
I will measure my social media stats for Facebook and Instagram every Friday.
I will intend to meet 1-3 new contacts at each networking event I go to this week.
Hold Yourself Accountable. Not only are you setting clear expectations and SMART goals, you need to be checking in with yourself to ensure you are on track. Did you mail out the 35 marketing letters this week? Did you create 1-2 Facebook Live Videos? Did you call 1-3 of your clients each day? You have the picture! Are you doing what you know needs to be done or are you falling into old patterns of behaviour? Did you skip a couple weeks and then blast out 70 marketing letters? Did you create one Facebook Video one week and then another 6 weeks later? What traction are you getting? Consistent actions will get you further ahead than random ones! OWN it! Make things happen.
Shine the Spotlight on What is Working. Know what is working well, what is not working well, and what you need to ask for help with or delegate. Your mindset needs to focus on what is going right and ask the questions around why some actions may not be right.
Anticipate Roadblock and Obstacles. Just because someone if optimistic about an outcome does not me hey are oblivious to roadblocks or obstacles. As a matter of fact, we anticipate them. Once you identify and acknowledge what potential roadblocks and obstacles are, you can learn about how to face them, navigate around the, or avoid them altogether if possible.
"Don't lower your expectations to meet your performance. Raise your level of performance to meet your expectations. Expect the best of yourself, and then do what is necessary to make it a reality." – Ralph Marston
You may be saying to yourself, "These expectations seem high. I do not know if I can achieve them." Studies have shown that people who set high expectations for themselves and others have obtained higher achievements. There is always an increase in motivation to rise to the challenge. Whereas, other said it increased their stress and led to disappointment. Here is my challenge for you. All effort moves the needle. No effort means no action and no traction. Raise your expectations and efforts by at least 1% and expect to achieve higher results. Anticipate success!! Get clear, decide, plan, and execute!
We would love to have you subscribed to the Success Secrets newsletter on my website at www.debrakasowski.com where you're going to get us free MP3 download 10 Surefire Strategies to Power Up Your Productivity and Performance. I would love to hear about this podcast has impacted your life. E-mail me at Debra@DebraKasowski.com. Thank you for listening to The Millionaire Woman Show where we talk about leadership, business, and human potential to help you live rich from the inside out. Subscribe to The Millionaire Woman Show. Share it with Your Friends. Give us a 5-star rating!
DEBRA KASOWSKI, BScN CEC is an award-winning best-selling author, transformational speaker, blogger, and Certified Executive Coach. She has a heart of a teacher and is certified in Appreciative Inquiry and Emotional Intelligence. Her writing has been published in a variety of print and online magazines. Debra Kasowski International helps executives, entrepreneurs, and organizations boost their productivity, performance, and profits. It all starts with people and passion. Sign up the Success Secrets Newsletter and get your free mp3 download today! www.debrakasowski.com