Podcast: Play in new window | Download
"I have found that there is a difference in the type of action you take and the results that you receive. My definition of action that gets the results you desire – is relaxed inspired action- not desperate action or desperate reaction."
― Sheri Kaye Hoff, Relax Into Inspired Action: Connect the Pieces and Live Fulfilled
Desperate action versus desperate reaction. How profound…
Some people talk about action being different than inspired action. We can do a lot of little task and little actions but are we doing them intentionally. Think about the actions you have been taking, are you doing them with intention?
Focus your intention and attention on what you want. If you are distracted or just doing things without thinking about the results that you want, you are going to miss out on a lot of different things.
Visualize achieving your end goal. Imagine how it will feel and what rewards you will reap from taking actions that you have.
Set goals and break them down into smaller manageable pieces. Set goals that help you stretch – in our next podcast.
Spend 20 minutes a day researching, reading, listening to a podcast, and increasing your knowledge about your "want". People make lists of their dreams and when they are thinking about all the things that they want to do – maybe it is their bucket list. They think it is so far-fetched. It's so far away from what is possible for me. What I want to do is to help you to shift your thinking from thinking of "impossible" to "I am possible". I can make anything happen. Do a little bit of research and increase your knowledge. It might break down the some of the barriers of your thinking about why something might not be achievable for you. A lot of people do not investigate the things they truly want. They automatically think things are too expensive or they think something is not achievable.
Several years ago I was doing a vision board workshop and I was talking with different people about their vision boards. There was one lady who had cut out a picture of a bride and she said, 'I do not know why I am even bothering putting this there." I told her she did not believe she deserved it. She looked at me and said, "Yes you are right!" After a bit of laser coaching, she ended up putting it on her visions board and to have that on there and start believing in something for her was HUGE! You need to start believing in yourself for these things to happen.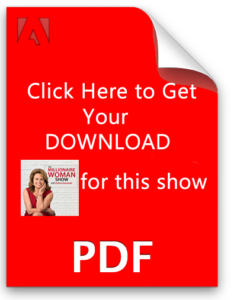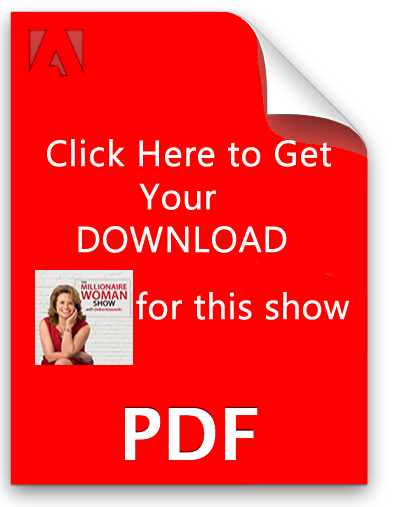 When you take the time to investigate what the cost might be or the things you want, like the promotion or you want more clients, there are phenomenal books and podcasts that you can have these strategies on your fingertips.
We have the internet. People do not have excuses about how to improve their business, how to get more clients – that pipeline and how to improve our lives with living more healthy.  There are books, articles, and podcasts. There is so much information. There are seminars and conferences you name it – things are available to you. You just need to start asking the right questions and spending the time doing it. The world is not going to just hand it to you and say, "Oh, here it is!" It is the positive thinking that a lot of people that people were talking about from "The Secret"; The Secret does have a lot of truth to it. What you need to do is, to take the action and the positive thinking together to take inspired action. The inspired action is the gentle nudge or voice that is telling you what your true calling is that purpose that you need to do something.
The same goes for growing in your industry – do some research and learn more about it so you can ask more thoughtful questions and help where you are to get better results. Success leaves clues. Leave your track record, create those footprints and take the time to mentor others. It is all the little things that are going to help you excel.
ASK questions and learn as much as you can about what you want. Once you find some information as more questions. Find ways to achieve what you want to. There is always more than one way to get what you want.
Find a mentor who is willing to share their knowledge with you and who has done what you want to achieve. They have great wisdom and are not asked for their expertise a lot of the time. They will find it flattering but don't just go up to them and ask if you can pick their brain. Find a way to create a win-win situation; it might be you who shares what the latest and greatest is in the industry.
Make a list of pros and cons. Simply, put a piece of paper in front you with a line down the middle with pros on one side and cons on the other. Take a look at the list and eliminate any risks so your actions can be deliberate. What can you do so the consequence does not outweigh the positive result? If there is a risk, how can you mitigate the risk so that you can ensure some smooth sailing? This way you are being proactive versus reactive in getting what you want.
Trust yourself to make the best decisions with the information you have. No one is stopping you from asking additional questions. You can adjust your course as you go. If you are going to wait for the perfect moment, you will either procrastinate or it is never going to be good enough to move forward. Take a chance and adjust as you go and you will be better every single time.
Celebrate your small wins and successes along the way. I often encourage the individuals I work with to keep track of the small wins and successes. Show gratitude. When you have a bad day, go back to those small wins and successes and read them over to shift your mindset but also to help you realize you have been through barriers and obstacles before and you have been able to hit a breakthrough to get you to where you are now. Don't let it stop you from achieving success. Celebrating your small wins and successes will help increase your motivation and momentum to keep going toward your end goal.
DEBRA KASOWSKI, BScN CEC is an award-winning best-selling author, transformational speaker, blogger, and Certified Executive Coach. She has a heart of a teacher and is certified in Appreciative Inquiry and Emotional Intelligence. Her writing has been published in a variety of print and online magazines. Debra Kasowski International helps executives, entrepreneurs, and organizations boost their productivity, performance, and profits. It all starts with people and passion. Sign up the Success Secrets Newsletter and get your free mp3 download today! www.debrakasowski.com
Time 10:37 min