Goal setting is something you can do at any time of the year but most people wait to the end of the year to set goals. I recommend that you set daily goals, monthly goals, and yearly goals in all areas of your life. You will be more focused and get greater results when you have a plan and work on them intentionally. Strategic planning for your life and business.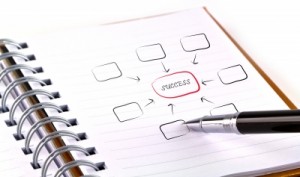 3 Ways to Keep Your Eyes on Your Goals:
1. Write them down on an 3 x 5 index card. When you write them down you are able to get your goals out of your head and onto paper. Keep them where you can see them throughout the day – by your bathroom mirror, on your car dash, day timer, or in your wallet.
2. Script Achieving Your Goal in a Journal. Write out what the day or event will be like when you achieve your goal. What will it feel like? List out all the details. Do this daily or weekly.
3. Write a letter to yourself. Dear ________, write out a letter to yourself about what it would mean to achieve this goal and all the steps you took to get their. The more detailed you can be the better.  You can do this on a daily basis or mail it to yourself one month, 3 months, or 6 months from now.
Before you know it, you will be accomplishing what you set out to do. Writing your goals down makes a difference. Review your cards, journal, or letters regularly to envision the goal achieve and be able to recognize when you have achieved them. Step by step you will get there!
I would love to hear about what you do. Comment below…let's get ready for the best 2013 ever!