Podcast: Play in new window | Download
"Trust is the glue that holds people together and is the lubricant that keeps an organization moving forward." Colin Powell
There are a variety of definitions of trust in the dictionary. What it basically comes down to is the belief that you are confident and feel assured in a situation or with a person. A sense of security – saying "I've got your back."
Trust within a team starts with the leader. As a leader, you must lead by example. To develop a high performing team there MUST be trust amongst the members of the team. Trust is the foundation of any winning team. It creates an environment where team members can share their thoughts and concerns even if they challenge the thoughts of the leader or other team members. A diversity of ideas and opinions can be a benefit to achieve results as different perspectives are considered. When there is trust, a team collaborates, cooperates, and works toward a common goal.
When new teams are formed or new members join a team, it is easy to believe that team member should trust each other by default. This belief is not always the case. You need to remember that team members come to a team with past knowledge, experience, skills, and abilities. It can be hard for a person trust new team members when they have had their trust betrayed. Individuals who mistrust may have experienced a traumatic event, had teammates that did not follow through on commitments or had been disappointed because a team member did not live up to their standards.
"Trust is the glue of life. It's an essential ingredient in effective communication. It's the foundational principle that holds all relationships." – Stephen Covey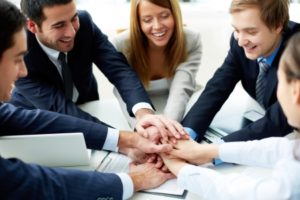 Open communication is imperative. Patrick Lencioni addresses the absence of trust as one of the dysfunctions of a team. To build trust within a team, you must seek to understand the perceptions, assumptions, and opinions of your members. Be curious like a learner. Set aside any judgments, assumptions, or bias you have as they may cloud or discoveries. Team members should begin with the main assumption that each person comes to a team with the positive intention to do good work. There is a common trust we assume that people will not steal from or damage the place in which they work. Lencioni discusses "vulnerability-based" trust is his book, The Five Dysfunctions of a Team. Vulnerability-based trust is when you feel that you can share your strengths and forthcomings with a team, take a risk, ask for help, or make mistakes. When you are in a team that is built on this kind of trust, you create a circle of safety to which people belong and feel comfortable to share your ideas and concerns.
Establishing ground rules and having an open discussion about what trust means to each team member and as a group is beneficial. Ground rules like no blaming, complaining, or finger pointing help members take personal accountability, and no gossiping about others help to ensure cliques do not form. Encourage team building exercises that help people get to know each other as people not only as a colleague in their role. Ensure that team member are clear about their roles and expectations and that when leaving a meeting that they know what they have committed to doing. Create milestones where you can touch base with one another to ensure everyone is on task. If there is a breakdown in trust or conflict, it should be addressed as soon as possible. Putting aside these conversations because they are uncomfortable could lead to a crisis that could have been averted. Deal with trust issues and conflict as soon as they arise to keep your foundation strong.
You have a personal team which includes your: doctor, dentist, eye doctor, hairstylist, banker, accountant, mortgage broker, realtor, etc. You need to have trust in them to take care of you for you to look, feel, and perform at your best.
High performing teams are built on trust. What does trust look like to you? How much do you know about your team members as a person? How are these individual like you? What core values do you share? What is their "Why" for doing what they do? During this process, you may learn that we are more alike than different.
"When you're surrounded by people who share a passionate commitment around a common purpose, anything is possible." – HOWARD SCHULTZ
We would love to have you subscribed to the Success Secrets newsletter on my website at www.debrakasowski.com where you're going to get us free MP3 download 10 Surefire Strategies to Power Up Your Productivity and Performance. I would love to hear about this podcast has impacted your life. E-mail me at Debra@DebraKasowski.com. Thank you for listening to The Millionaire Woman Show where we talk about leadership, business, and human potential to help you live rich from the inside out. Subscribe to The Millionaire Woman Show. Share it with Your Friends. Give us a 5-star rating!
DEBRA KASOWSKI, BScN CEC is an award-winning best-selling author, transformational speaker, blogger, and Certified Executive Coach. She has a heart of a teacher and is certified in Appreciative Inquiry and Emotional Intelligence. Her writing has been published in a variety of print and online magazines. Debra Kasowski International helps executives, entrepreneurs, and organizations boost their productivity, performance, and profits. It all starts with people and passion. Sign up the Success Secrets Newsletter and get your free mp3 download today! www.debrakasowski.com
Time: 11:18 min