Podcast: Play in new window | Download
Dr. Mark Goulston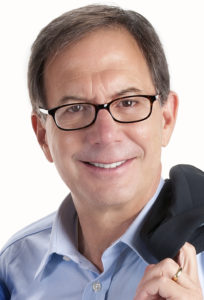 Widely regarded as a "people hacker," Dr. Goulston began his career as an interventional psychiatrist focusing on suicide and violence intervention and prevention and UCLA professor of psychiatry. He then extended his work to training FBI and police hostage negotiators and then to the corporate world and NGOs.
His "people hacking" has now extended to, "hacking genius," and he has recently been speaking, writing and providing webinars on  "Insanely Great! How to Think Like Steve Jobs." Along with that he helps companies to see into their futures the way Jobs could. By the way, it is not that difficult, it's just difficult to envision a different paradigm when you're within your own paradigm. You know the saying, "When you're a hammer, the world looks like a nail."
Past or present companies or institutions, he has worked with or spoken to include: Harvard Business School, IBM, Mattel, Coca Cola, Toyota, Hyatt, Accenture, Ernst & Young, Sodexo, Goldman Sachs, Bank of America, Northern Trust, Northwest Mutual, YPO, UCLA, USC, University of Alabama, American Bar Association, NACD.
Including, "Just Listen," Dr. Goulston is the author of seven books with his first book, Get Out of Your Own Way: Overcoming Self-Defeating Behavior, first published in 1996 being in the top 5 self-help books at Amazon for the last seven years. His most recent book is Talking to Crazy: How to Deal with the Irrational and Impossible People in Your Life and was recently Oprah.com featured book and was nominated as an Audie Award 2016 Finalist.
He writes for Biz Journals, Harvard Business Review, Business Insider, Huffington Post, Fast Company and Psychology Today and appears widely in the media including CNN, Wall St. Journal, NY Times, Fortune and Forbes.
He serves on the Board of Advisors of Health Corps, Brainrush and Truli Media.
Dr. Goulston earned a BA from UC Berkeley, MD from Boston University School of Medicine, Post Graduate Psychiatry Residency from UCLA Neuropsychiatric Institute and is a Fellow of the American Psychiatric Association. He was selected as one of America's Top Psychiatrists in 2004, 2005, 2010, 2011 by the Consumers Research Council of America.
Interview Length: 54:56 minutes
Keywords: listening, Steve Jobs, Dr. Mark Goulston, getting through to anyone, connection, intentional listening, communication, relationships, interpersonal relationships, Just Listen