I had the honour of listening to and meeting Darren Hardy, publisher of SUCCESS Magazine (Highly recommend a subscription) at his Productivity Secrets of Super Achievers .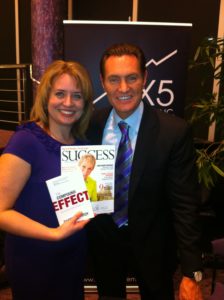 His talk was insightful and profound. Many of us think that if we are doing many things we are achieving more and producing more. It can be further from the truth. You may be a overachiever – getting many things done but there are significant distinctions that create the SUPERACHIEVER!
1. Learn to Say "No" to More Things that Take You Away from What is Most Important to You. As women, we have a difficult time saying no to people without feeling guilty. Who are we being a martyr for? I have learned that in order to have the success you desire you must guard your time, energy, and focus. Your time is one of the most valuable commodities. Once it is gone you cannot replace it.
Focus on "doing" what gives you the greatest return on your investment.
What do you need to NOT do? Yes is easy! The anxiety comes from saying NO! Super achievers say NO more often!
Overscheduling can be stealing away your opportunity to achieve big results in less time.
2. Focus on your VITAL functions. Be world class at a few things. Why be mediocre at many things? People do not want mediocre – they want the best! Do fewer things but do them well.
Master the basics of what makes you great!
3. Focus on Your Strategic Priorities. You may have many goals but focus on your top 3! Spend each day planning your daily actions before you even get started with checking email or responding to voicemail. Get a clear picture of what you need to focus on. Look at your calendar – is there anything you need to say NO to or STOP doing?
What is the one thing that matters most that only you do?
Quit doing things that are taking you away from focusing on your strategic priorities. Darren Hardy mentioned that in the beginning you often need to do it all but as your time, finances, and resources become more available quit doing them. Delegate so you can concentrate on what you do best.
In order to more productive, focus on what one thing you need to do very well to get your greatest return on yoru investment. Your time matters!
What are some of your productivity secrets? What are the three things that matter the most to you to make more money to achieve your success?