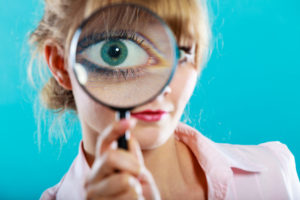 Let's Be Curious™:Ask Better Questions, Get Better Answers

Are you afraid to ask questions for the fear of looking foolish or stupid? Are there situations where misunderstandings and damaged relationships may have been avoided? Are there questions you could have asked that would have made a significant impact on an outcome or decision that need to be made?
In this engaging and interactive presentation with Debra Kasowski, you will:
Learn the 5 reasons why asking better questions yields better answers

Uncover the shocking truth about why people don't ask questions

Discover the 2 most important reasons why you should ask questions

Develop ways to be more curious and ask questions so you do not limit your potential.
If you want to develop rapport and trust with ease, improve your communication skills, make better decisions, be more informed, become a better leader, build more cohesive teams, and discover solutions to problems – it is time for you to start asking questions and be curious.
This keynote can be tailored to your industry or organization. Everybody asks questions.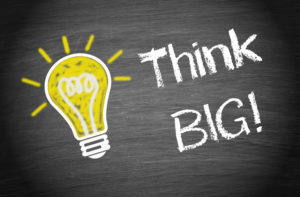 Raise the Bar of Excellence™: Expect More, Achieve More

Are you frustrated over a missed opportunity or did you get passed over for a promotion? Are feeling like you are "stuck in a rut" or bored because you are not challenged or have lost your passion? Do you keeping doing the same things thinking you will get different results?
In this captivating presentation, Debra Kasowski help you take charge of the direction you are heading and course correct. You will:
Learn what 3 actions you must eliminate that are holding you back

Uncover 3 shocking truths about why people do not want to raise their bar

Discover what you can start doing today to get the results you want

Transform your life, business, organization by not settling for mediocrity – take the ordinary and make it extraordinary!
This presentation is for people who want to raise the bar of what is considered exceptional practice, who want to do interesting and challenging work that is valued and appreciated, who want to get the promotion, develop stronger relationships and build stronger teams, who want to stand out from the crowd, who want to make more money, who want to unleash their potential, and achieve extraordinary results.
You do not know what is possible until you take the first step – raise your bar!
This keynote can be tailored to your industry or organization. When you raise your bar, you will work toward meeting it!

Leading with Emotional Intelligence
You may have heard the buzz about emotional intelligence – what exactly is it? Emotional Intelligence is about ability to understand and manage your emotions and the impact on those around you. Do you understand how your emotions play a role in how you make decisions or relate to others? Do you recognize the patterns of behavior that are holding you back from your success? Are you able to effectively express yourself and get you point across?
In this dynamic and empowering presentation, Debra Kasowski will share:
the difference between IQ (Intelligence Quotient) and your EQ (Emotional Intelligent Quotient),
the hidden drivers behind peak performance and what you can do to achieve it;
and how you can improve your emotional intelligence to create more happiness, build confidence, increase productivity, build rapport and trust in relationships, and improve your communication skills.
This presentation is for individuals, businesses, and organizations that what to develop their leaders, make better decisions, demonstrate they care about  their people, improve, build, and nurture relationships, develop coping skills and manage stress, and improve their communication skills.
Speaker Sheet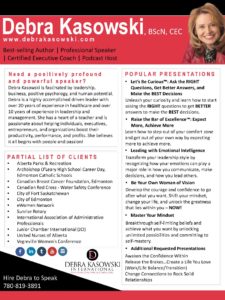 Debra Kasowskiis fascinated by leadership, business, positive psychology, and human potential. Debra is a highly accomplished driven leader with over 20 years of experience in healthcare and over 10 years of experience in leadership and management. She has a heart of a teacher and is passionate about helping individuals, executives, entrepreneurs, and organizations boost their productivity, performance, and profits. She believes it all begins with people and passion!