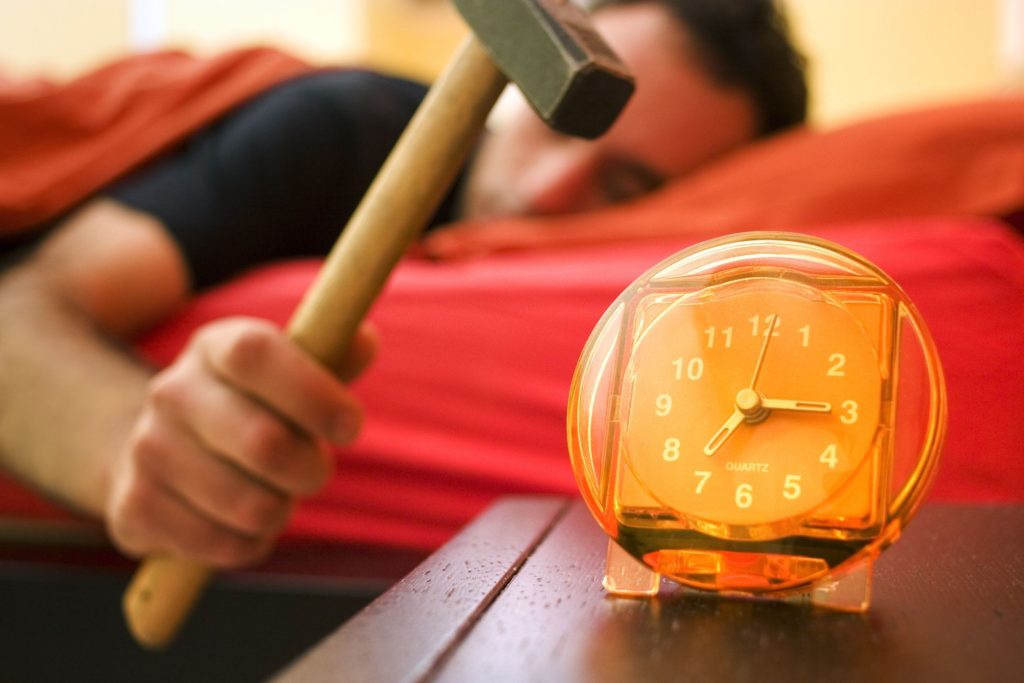 Getting out the door in the morning can be a challenge. It seems like there is never enough time to get things done. Why do some people seem to have a handle on this while others struggle?
Many of the time saving tips seem so common. If they were so common, why isn't everyone doing it? You could be setting yourself up for a focused work day. Time is a commodity; use it wisely.
"I get up every morning determined to both change the world and to have one hell of a good time. Sometimes, this makes planning the day difficult." – E.B. White
The night before…
Ensure you have gas in your vehicle the night before. Having the yellow light indicator alerting you to an empty tank will detour your efforts to getting to where you need to on time because now you need to plan to stop and fill up.
Put a clock in your bathroom. By keeping an eye on the time, you will have a better idea how much time getting ready is taking you and how soon you need to get out the door.
Set a timer or create a playlist of upbeat songs and set a firm timeline that you need to leave the house by. You should have an idea about how long it will take you to get ready and get out the door to your destination. You may choose to set it 15 minutes in advance so you can leave the house earlier prepared for the unexpected.
Write out your to-do list. Organize your drive time and errands so you make the most effective use of your time for the next day.
Pack your lunch. You are more likely to take a lunch if you are already prepared. If you are running late, you will skip making a lunch and end up having to buy one. It may not seem like much one time but if you did this regularly it could become quite costly. Fill up your water bottle and put together snack size vegetable packs to keep with you in a small cooler or grab an apple or orange to have on standby when needed.
Check the weather for the next day. You can plan your travels and what you are going to wear. You may need to pack an umbrella or a jacket.
Lay out your clothes that you are going to wear. You avoid wasting time making a decision. Some people have a standard uniform they wear to avoid having too many choices in the morning.
Sleep in your workout clothes. You are already dressed to work out and are less likely to bow out of your workout because you are dressed.
Set your essentials such as car keys, your gym bag, shoes, wallet or purse, and your to-do list at the front door. You will spend less time looking for keys to your vehicle and be prepared for your day.
Buy a coffee maker with a timer. If you need your morning cup of java, put the water and the grind in the coffee maker so that it is brewing as you are getting ready.
Put together an easy "on the go" breakfast. Skipping breakfast is not healthy. Your body needs to break the fast and the metabolism working in the morning. Prepare breakfast burritos in advance so that you can heat and go on the run. You may prepare snack size bags of cereal, some berries, and yogurt for a quick breakfast. Smoothies are great for a healthy breakfast for those who are rush. You can place your fruit and yogurt in the blender and keep it in the fridge so it is ready to go.
Go to bed at the same time every night or earlier. Open your curtains to the sun's natural light can wake you. Your body needs a certain amount of sleep tp feel rested and you will be less likely to hit the snooze button and fall back into a sleep cycle.
"Morning is an important time of day, because how you spend your morning can often tell you what kind of day you are going to have." – Lemony Snicket, The Blank Book
The morning of…
Wake up early and do the 20/20/20. Spend 20 minutes in meditation, prayer, or journaling to clear your mind and set the tone for the day. Spend another 20 minutes reading a book or article in your industry to improve your skills, knowledge, and abilities. Exercise for 20 minutes to keep your body strong and prepare yourself mentally for the day.
Don't start responding to emails. Let the morning be your time to set the stage for the day. Keep your devices off. Focus on your needs first. Most emails require a response from you.
Stay off social media and turn off the news. You can get distracted by posts and feel the need to respond. Before you know it, you may be drawn into a video or be compelled to watch the TV just a little longer.
Feeling rushed or being late can set a tone for the day. It impacts customers/clients, co-workers, businesses, and organizations- and YOU! Set yourself up for success!
DEBRA KASOWSKI, BScN CEC is an award-winning best-selling author, transformational speaker, blogger, and Certified Executive Coach. She has a heart of a teacher and is certified in Appreciative Inquiry and Emotional Intelligence. Her work has been published in Diversity Magazine and Fabulous at 50 magazine. Debra Kasowski International helps executives, entrepreneurs, and organizations boost their productivity, performance, and profits. It all starts with people and passion. www.debrakasowski.com