We are all in sales-selling ourselves out in the world. Selling is a relationship between the seller and the prospect. Selling doesn't have to sound like a dirty word. I do not like high-pressure sales, gimmicks, or tricks to get the sale. I do like to study salespeople when I go into showrooms to see if they create relationships with their customers. I want to know if there truly listening to hear what their prospects needs and wants are. A salesperson should be able to answer the question, "What's in it for them?" before looking for the sale.
As a customer, I do not want to walk into a store or show room looking like I am walking dollar bill that needs to be collected. A couple weeks ago on a Sunday afternoon, my husband and I were out vehicle shopping and when we came to the number crunching time and were negotiating the offer, we had for different salespeople sit in the chair before us trying to get the sale. One of the sales persons was even going to throw in a Wii console for my children to have in the car. I did not purchase a vehicle there. I am still looking for what I want.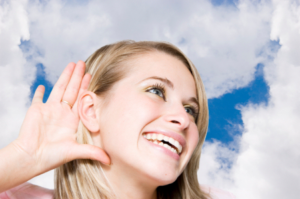 This is where active listening plays such an important role in getting a sale without being salesy.  When you were actively listening to your prospects or your customers you are in fact building a relationship and gaining a better understanding of their wants and needs and how you can be the key to fulfilling that.
Active listening also involves asking the right questions.  Here are some examples of active listening techniques as well as some ideas of what questions you should be asking.
Active listening:
 be present and focus in on your prospect or customer
 smile and maintain eye contact
 nod if appropriate when responding to conversation
 listen and hear the words that are being said
Asking the Right Questions:
 ask your prospect or customer what they are looking for -get a clear picture
 probe for more detail if necessary
 discover their goals and challenges – what experience are they hoping to have
 what are the features and benefits for your customer
 discover a common interest which makes you relatable to the customer
Active listening and asking the right questions makes your prospect and customer feel that they are important to you and that you value their business and and appreciate their time.  and Create conversations around service and meeting your customers needs.   your prospect or customer may make the decision to go through with the purchase and sometimes you may ask the sale.  When you use conversation, you can get to the sale without pressure, without gimmick,s or tricks.  Be real. Remember your time is valuable to why not  use it to serve others in a big way.